Taylor Clement, high school friend, December 9, 2017 eulogy.
Ariana Conway, sorority sister, April 25, 2018 media interview.
Dominique Hussain, sorority sister, November 8, 2017 tribute.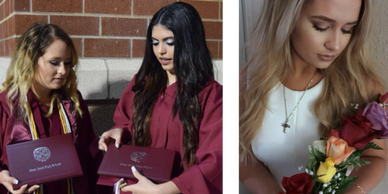 " I never met somebody who was so welcoming and so loving so quick. I think, if she would have had more time here, she would have infiltrated the world with her love, creating a difference. But, the thing is, somehow she managed to fit a whole lifetime of love into 19 years. I think that's pretty awesome. And I don't think anybody in this room can say that they don't have room in their hearts to start loving people around them more. Maybe it's the smallest little thing to begin with, but I think everybody could say that they could strive to be a little bit more like her. Because we might have lost her, but we should not lose what was important to her. So, I challenge you to start doing the things that Cayley would do. "
(Source)